🔵 WIN Luncheon - GIRL BOSS
🔵 WIN Luncheon - GIRL BOSS
Friday, September 2, 2022 (11:45 AM - 1:00 PM) (CDT)
Description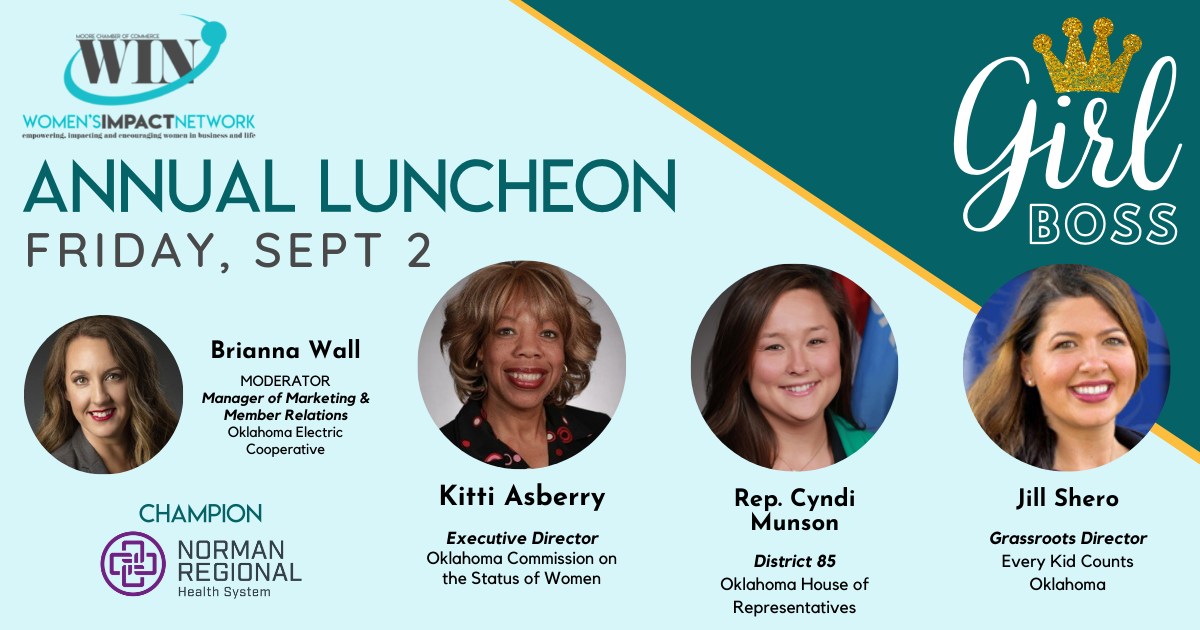 Please join us for our second annual Women's Impact Network (WIN) Girl Boss Luncheon - a panel of successful and impactful businesswomen leaders - on Friday, Sept. 2, from 11:45am to 1pm, at Moore Norman Technology Center - South Penn Campus, at 13301 S. Pennsylvania Ave in south Oklahoma City.
The three-woman panel consists of Kitti Asberry, Executive Director of the Oklahoma Commission on the Status of Women; Rep. Cyndi Munson, Oklahoma House of Representatives - District 85; and Jill Shero, Grassroots Director of Every Kid Counts Oklahoma. The panel will be moderated by Brianna Wall, Manager of Marketing & Member Relations with Oklahoma Electric Cooperative.
ABOUT THE PANELISTS
Kitti Asberry, Executive Director, Oklahoma Commission on the Status of Women
Kitti Asberry has served as Executive Director since 2015. Prior to that, she served as Office Administrator. From her experience as a longtime community leader, activist and volunteer in Oklahoma, she brings demonstrated leadership in advancing women's issues in our state and beyond. She is responsible for working with the Commission towards improving outcomes and expanding opportunities for women, girls and families in Oklahoma.
As Executive Director, she oversees programming, marketing, events, social media, and daily operations of the Commission. Currently, she serves as Vice President for the National Association of Commissions for Women (NACW.) She serves as Secretary on the board of Directors for Sister Cities International of Oklahoma, an organization devoted to creating and strengthening relations around the globe. She is a board member of Sally's List, a progressive organization which recruits women to run for public office. In 2019 she was appointed by OKC Mayor David Holt to serve on the Board of Adjustments. She is a graduate of Leadership OKC, Class XXX.
Asberry earned her Bachelor of Science in Business /Management and her Master of Business Administration / Human Resources Management from the University of Phoenix. She has completed work towards her Doctor of Business Administration. In addition, she is a 1986 graduate of the George Meany School of Political Science and Labor Studies, in Washington, D.C.
Rep. Cyndi Munson – District 85
Originally from Lawton, Cyndi Munson developed her passion for public service at an early age. Her father's military service taught her the importance of giving back to the community around her.
A first-generation college student, Cyndi graduated from the University of Central Oklahoma with a Bachelor of Arts in Political Science and was awarded the Presidential Gold Medal for Leadership and Public Service. She used a semester of her undergraduate career to study non-profit and voluntary services at Georgetown University and then attended the University of Nebraska – Lincoln, where she earned a Master of Science in Leadership Education.
Cyndi has spent over a decade working in the non-profit community. Passionate about education and criminal justice reform, she most recently served OK Messages Project, a non-profit working to improve children's lives through shared reading with their incarcerated parent, as the Development and Community Engagement Coordinator. Prior to joining OK Messages Project, she served in a variety of professional roles in her five years with Girl Scouts of Western Oklahoma. Her insight helped to provide leadership programs for thousands of girls in low-income schools, juvenile detention centers, and public housing.
Jill Shero, Grassroots Director, Every Kid Counts Oklahoma
Ms. Jill Shero was appointed to the Commission in 2021 by Governor Kevin Stitt. She was elected Financial Officer in May of this year. Currently she serves as the strategic, grassroots director of Every Kid Counts Oklahoma, a non-partisan education reform organization aimed at amplifying the voices of and providing resources for Oklahoma educators, parents and community leaders who want a better education system for our kids.
For the past ten years, she has worked with federal, state, and local governmental entities. Previously she worked in D.C. on the Troubled Asset Relief Program or T.A.R.P. In 2015, she was tapped for field work and State Department casework in the office of Congressman Frank Lucas. In 2018, working as political director, she led the passage of Marsy's Law, a national movement that aims to ensure victims of crime have meaningful and enforceable constitutional rights in the criminal justice system.
Commissioner Shero has an International Business degree, with a diplomacy minor. In 2022 she will earn her Master's degree in Indigenous Law at the University of Oklahoma. She has a passion to see the commission highlight issues of trafficking in the state.
Brianna Wall, Oklahoma Electric Cooperative - MODERATOR
Brianna Wall, a Moore Chamber of Commerce board director, serves as Manager of Marketing & Member Relations at Oklahoma Electric Cooperative, where she has worked since 2006. She leads a team of incredibly driven, creative employees whose work is nationally recognized in the electric co-op industry. Brianna graduated from the University of Oklahoma in 2009 with a Master of Human Relations and spent eight years as OEC's editor and creative director.
A proud member of the Moore community since 2011, Brianna is a graduate of Leadership Moore Class XX and a member of the Norman Regional Health Foundation board of directors and the Moore Public Schools Foundation board of directors, where she currently serves as immediate past president. Brianna has co-chaired the Leadership Moore program since 2018 and is an ambassador for the community's small, locally-owned businesses.
She and her husband of 12 years, Corey, live in Moore with their 7-year-old redheaded son, Bryson, and love to explore new places across America.
Empowering, Impacting and Encouraging women in business and life
Newly formed in 2020, WIN was created to bring the business women of Moore and the surrounding areas together for strength, support, and camaraderie in both business and life. We will do this through events and programs throughout the year.
Cancellation Policy
If you register for an event and do not cancel your reservation at least 24 hours prior to the event you will be charged, regardless of attendance.
Photography Disclosure
The Moore Chamber of Commerce wants to share our great events in print, online and video-based materials as well as other publications. To do this, the chamber regularly takes photographs at events. When you register and attend an event:
You agree to release and hold harmless the chamber from any reasonable expectation of privacy or confidentiality associated with the images.
You acknowledge that you will not receive rights of ownership or financial compensation of any type associated with the taking or publication of these photographs or participation in company marketing materials or other chamber publications.
Finally, you release the chamber from liability for any claims in connection with your participation.
Sponsors
Champion Sponsor
Norman Regional Health System
Triumph Sponsor
Eide Bailly LLP
Moore Norman Technology Center (S. Penn)
Reach Sponsor
Success Sponsor
Pricing
$30 Members - $5 Early Bird Registration discount available until 08/26
$35 Non-Members - $5 Early Bird Registration discount available until 08/26
Moore Norman Technology Center (S. Penn)
13301 S. Pennsylvania



Oklahoma City

,

OK

73170

United States



Friday, September 2, 2022 (11:45 AM - 1:00 PM) (CDT)
11:45 a.m. to 1 p.m.
Categories
Women's Impact Network
Chamber Of Commerce